New TIR dishwasher on D1!
In our new area at the exit of the D1 motorway, we will take care not only of you, but also of your vehicle. Whatever you ride! We have opened a spa for commercial vehicles: the Tammermatic Rainbow ULTIMA AX600.
Treat your truck and bus to a cleansing service
Rainbow Ultima can perfectly clean any car up to a height of 4,5 meters and 2,6 meters wide. And it's not just for trucks - you can also come here by bus, even with the mirrors in front, with a tractor, van, flatbed or tank.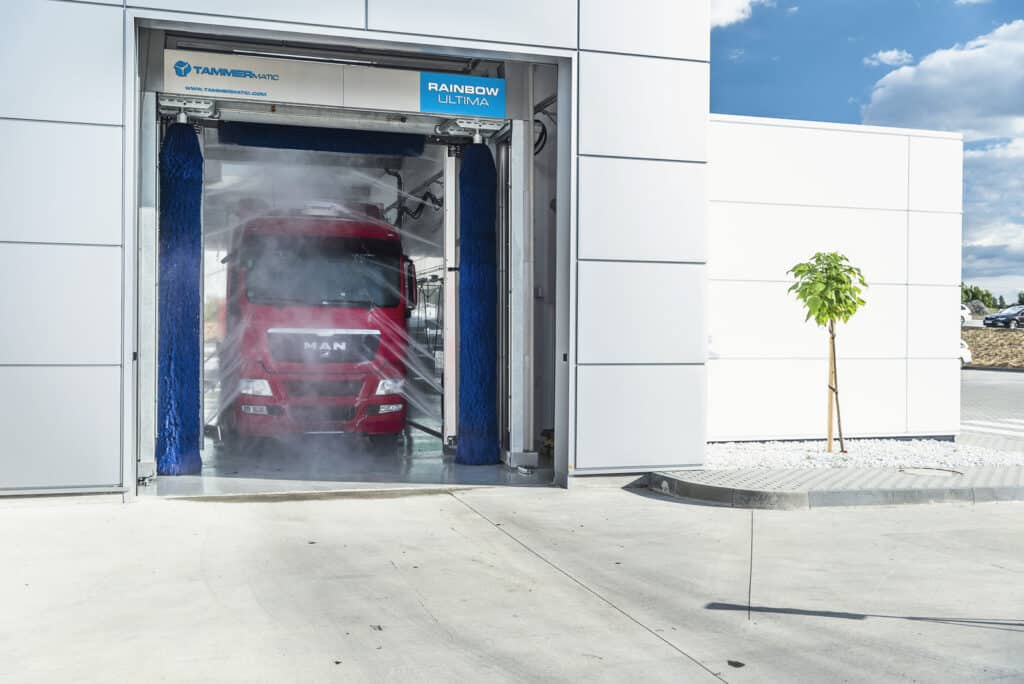 The secret of success: rotating nozzles and 3 brushes
Your car will be as clean as when it left the factory. Our car wash uses a special combination of technologies, thanks to which it washes even the most inaccessible places and your car leaves it brightly clean, from the front bumper to the rear.
Patented high pressure nozzles
Our dishwasher has a patented Solid Stream pressure washing system. It is a system of 3 parallel nozzles for pressure washing 70 bar. Before the brush washing itself, this removes dust and any other particles that could damage the paintwork from the exterior of the car.
The side of the car is taken care of by horizontally moving, oscillating nozzles with multiple overlaps of water jets. The front, rear and top of the vehicle are in charge of oscillating nozzles, located on the rotating washing roof rail.
3brush washing: efficient and gentle
After the nozzles, brushes come to the fore. These complete the cleaning thoroughly and at the same time gently to the surface of the vehicle. The brush pressure is regulated electronically to achieve optimal results. In addition, both side brushes can be tilted by 5 to 7 °, which ensures a perfect wash of the front of your car.
In our offer, we have prepared several washing programs for you, including washing with active foam or application of disinfection.